On the News
Chef Lin adds new items to buffet
Entrees available to go
Chef Lin Buffet has added a new hot buffet bar to expand its selection of entrées to include new Asian-style recipes as well as several traditional Southern dishes.
"I feel like people have been voting for us as the No. 1 buffet in Chattanooga for so long and I feel we need to keep doing what we've been doing to earn it," says owner Tony Lin. "We added one more steam table, which allowed us to add more than 10 new items."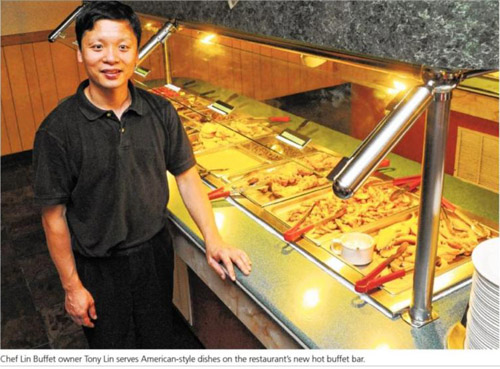 The new buffet features Asian-style dishes like grilled tilapia in a special Hunan sauce, Pad Thai noodles as well as vegetable tempura with broccoli, sweet potato, mushrooms and zucchini.
The Southern-style dishes such as fried catfish, pinto beans, turnip greens and sweet corn provide a nice selection for those diners who want a diversion from Asian cuisine.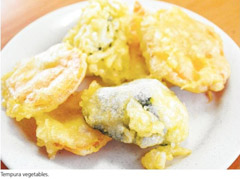 "If the customers can tell me what they like, I can keep it in mind and fix it for them," Lin says. "Before, when I've had an idea, I've been limited because of the bar space, but now I can add new items when I think of them."
Chef Lin is not only popular for the recipes prepared with fresh ingredients on the buffet, but also for its sushi and hibachi bars. Lin added a second hibachi grill station this summer to reduce guests' wait for their favorite grilled meats and vegetables.
Professional sushi chefs create popular rolls during lunch and expand into a variety of nigiri sushi for dinner at Chef Lin.
"A lot of people love to come here to celebrate their birthday because they get their meal free if they come with two other paying guests," Lin says.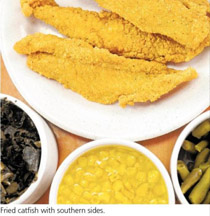 For large parties, Chef Lin has a room available that can seat up to 150.
The extra space provides privacy for office meetings, birthday or anniversary celebrations and other events, while still giving access to the full sushi, hibachi and buffet bars.
Customers who want to take their favorite recipes back to the office can fill a carryout box to take with them.
Lin says the cost is $3.99 per pound for lunch, $4.99 for dinner and $7.99 for shrimp or crab legs.
*** Sunday, August 7, 2011 ***




TEL:(423) 510 - 1998 FAX:(423) 510 - 1997
5084 S.Terrace Rd., Chattanooga, TN 37412
© Copyright 2011, www.cheflinbuffet.com, all rights reserved.
power by
Enymedia Inc
.